HOT-SPOT
CLIENT Limburg
YEAR 2016
LOCATION Limburg, Belgium
PUBLICATION Paper of Limburg
CO AUTHORS Emiel Swinnen
TAGS
Research
,
Drawing
,
Large
- An urban vision to create a seasonal geothermic pavilion reviving the exploited Mining landscape. Acting as a spa in winter and hot Balloon deck in summer. -
Within Objectives of drastically reducing CO2 emissions by 2050, it is necessary that Belgium switch on renewable energy. We will focus on geothermal energy. We build on a study called "Atelier diepe geothermie" by 51N4E and VITO and project this on small a town called 'As' which is situated on the 'Kolenspoor'. As is a forgotten municipality within this mining area. It has never had a mine industry and therefore never enjoyed accompanying economic successes, resulting in a village that is many times smaller than all the surrounding municipalities.

When switching to Deep geothermal energy there are 22 pairs of geothermal drillings needed to meet the energy demand of the region. This drilling should be at least 6 km away from each other, which leads us to a proposed heat network that can be used to transport hot water from more distant places to urban cores. Deep geothermal energy is a underground operation and has hardly any influence on the landscape. We have consciously chosen to make it well visible, and to ensure that geothermal energy can be the symbol for this region in the 21st century.

We want to use a season depend pavilion that uses geothermal energy to put As finally on the map and smoothening the energy transition towards the local people. Our outpost can both literally and figuratively be seen as a HOT-SPOT. The mining industry has redrawn the landscape in this region in the 20th century and we are convinced that geothermal energy can do the same in the 21st century. This geothermal energy is used to create a certain experience for visitors. In winter, a small part of the heat is used for a hammam. In summer, hot air balloon, which fully operates on geothermal, can be seen as a symbolic gesture in the air where people are always reminded of the nearby geothermal activity, as opposed to the historic mine shafts.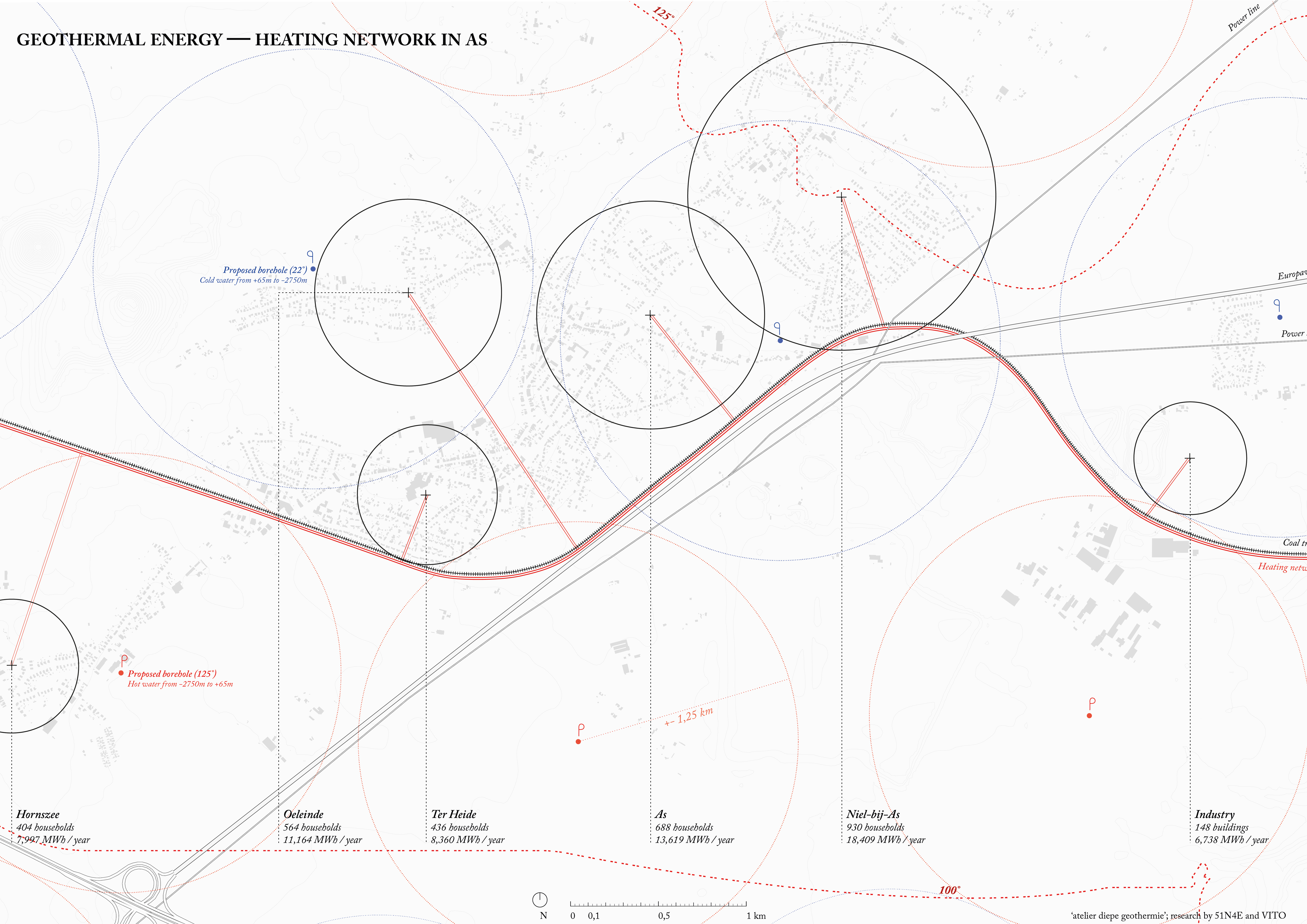 ---